Returning to school after Easter, we discovered our brand new topic was Sail Away! For our Stunning Start, we began with a PowerPoint all about plastic pollution in seas, how this is bad for sea life and humans, and how we can all help reduce this. We learned about the importance of recycling or reusing our plastics, paper and other materials.
Following this, we joined with Year 3 to create a 3D octopus and whale out in the playground using plastic bottles and bags we had brought into school. Look at the photos below!
Back in the classroom, we got creative making a zentangle turtle. We reused our plastic bottles to make a shell for them! Also, we coloured a coffee filter paper using felt tips to produce a beautiful sun catcher which we decorated with silhouettes of sea creatures.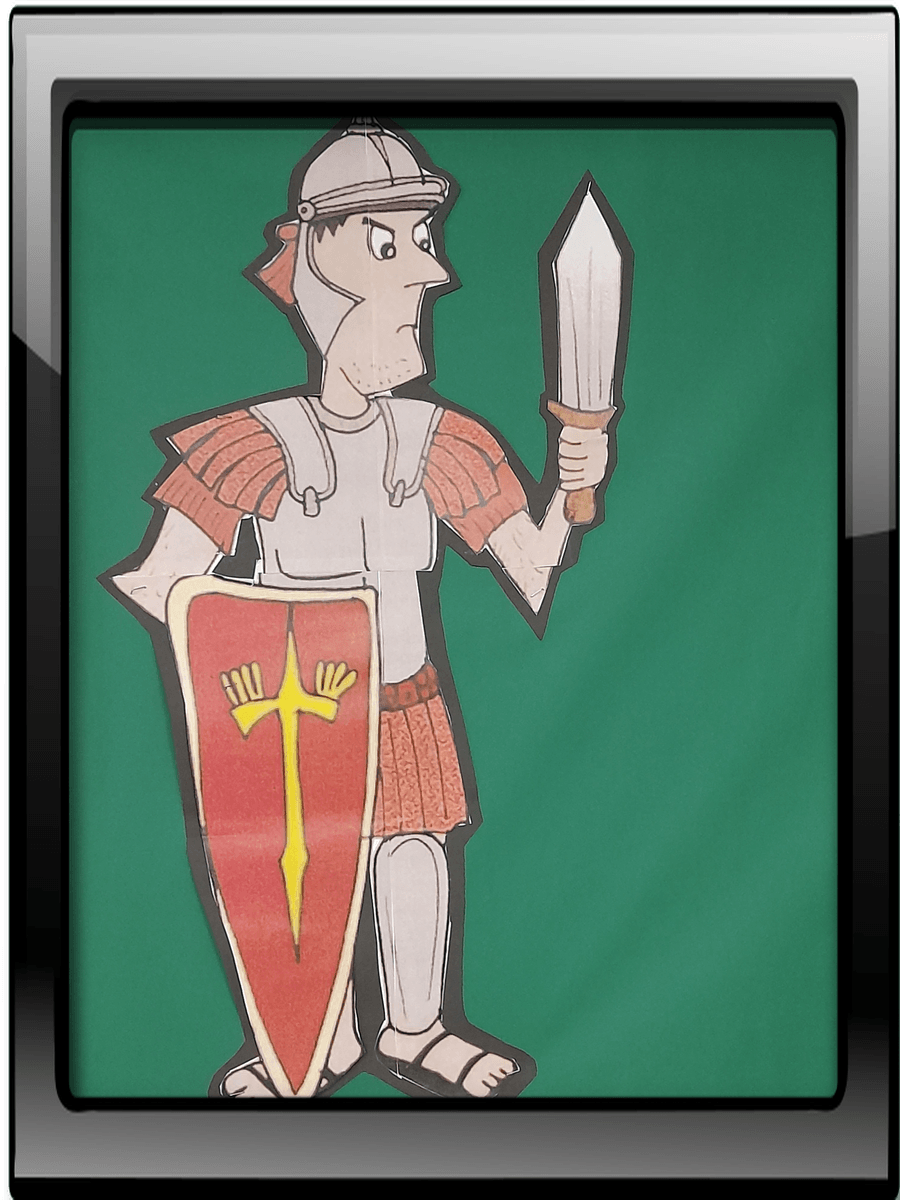 Arriving back in school after the Christmas holidays, we discovered our exciting new topic-Roman Invasion!
We learnt all about Roman mosaics and with patience created our own mosaic pictures.
Using clay we designed our own Roman coins and painted them using metallic paint.
Finally, using some scratch boards we created some amazing colourful Roman images.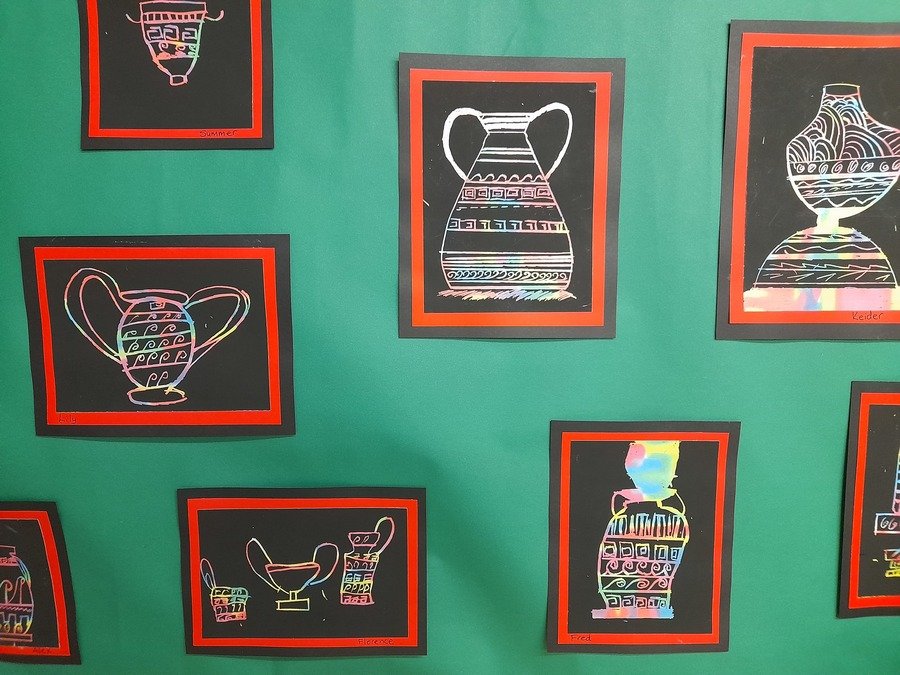 Term One-A Taste of Italy!
As the children arrived for their very first day in Year 4, there was lots of excitement in the classroom. Some children recognised the Italian flags and could name the character on display as Pinocchio.
Our new class topic 'A Taste of Italy' was revealed......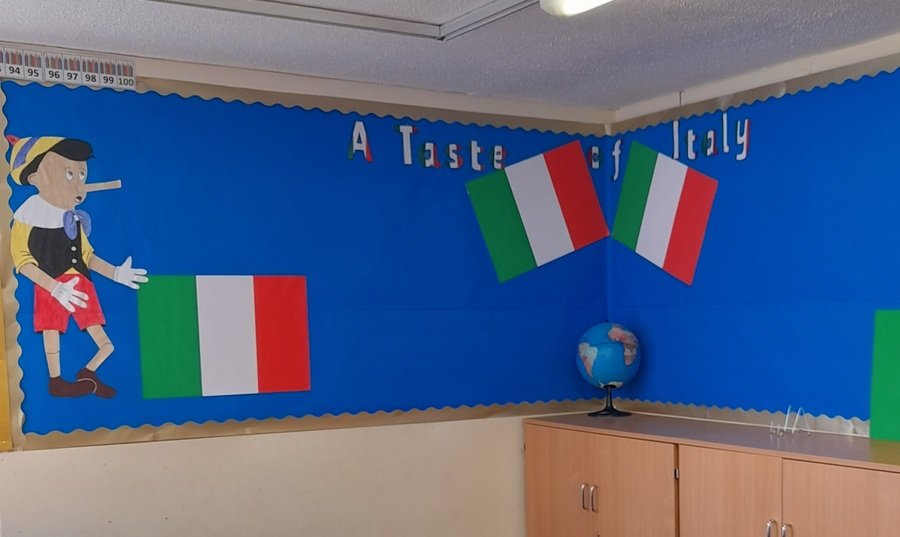 After settling in to our new surroundings, we had fun making pasta map pictures of Italy. In addition, we enjoyed a real taste of Italy by trying some typical Italian foods. We voted for our favourite and the used our maths skills to present this information as a bar chart.
Continuing with the Italian theme this term, we have shared the traditional tale of Pinocchio in our literacy lessons. The children then used this information to write a diary from the main character's point of view. Here are some extracts of our amazing writing...
What a devastating day! This morning I thought being a real boy was going to be extraordinary, but I got myself into a pickle.
So much has happened today that I scarcely know where to begin. I woke up and I was thrilled to go to school because it's my first day. I went down the stairs to see delicious pancakes. I gobbled them up. My dad gave me an apple and a book and I darted out of the house overjoyed.
Can you imagine what happened next? Suddenly, at the speed of light, two fashionable men interrupted my walk to school and started talking to me about a theatre. Should I trust these men?
Fred
You won't imagine what happened next. As I darted to school, two men suddenly shot out in front of me. They were such gentlemen and introduced me to a circus. I was easily tricked. They convinced me it was the best place to go, even better than school. I had to accept.
When I skipped across the road, I noticed a colossal sized structure. I was amazed! I made my way inside and I saw a crowd the size of an ocean. I realised I was in a gigantic theatre. I was startled.
Felix
Guess what happened next? I was strolling down the street. Suddenly two men jumped out at me and said something about the theatre. I was so excited. Little then did I realise that this was a trap.
Eventually, I arrived at the theatre. It looked magnificent. As I went inside a peculiar looking man appeared in front of me. Nerves raced down my body as I performed.
Dexter
So much has happened today that I scarcely know where to begin. I leapt out of bed overwhelmed and eager to go to school. Dad was trying to get my waistcoat on, but I was over excited.
I really had no idea what was going to happen next. All of a sudden, out of nowhere, two smart interesting men jumped out in front of me. Persuading me to come with them., I went because it sounded so good. The odd men took me to their car, I hopped in and as quick as a flash, we were there.
Jacob
In our art lessons, we have created beautiful reflective art pictures of Venice.