Welcome to Class 4P's News Page
Welcome to 4P: Class of 2020 / 2021
Summer Term 2021:
We were delighted to be back together again after the Easter holidays to find ourselves on display as mini explorers, complete with safari hats and binoculars. It didn't take the children long to work out that our new topic was "Jungle Fever". Our stunning start consisted of a taste test - where lots of us tried dates and fresh mango for the first time. A big thumbs up all round! We ate giant spiders (disguised as chocolate buttons) and snakes in mud (jelly snakes on bourbon biscuit soil). We made bright and colourful parrots using our hands to make the feathers and designed our own exotic snakes using finger painting. Even the lockers outside our classrooms have been given a rainforest vibe.
This term we will be looking at non-chronological reports about unusual rainforest animals and we will be writing our own story settings.
Spring Term March 2021:
It has been another interesting term. We thought we would all be back together enjoying time in the classroom but January had other ideas. Some of the children joined the adults in school while others joined classes on line. Everyone made the best of the situation. We carried on learning lots with our topic "Frozen Worlds". We even managed to work on our reading, writing and arithmetic. The children have enjoyed looking at the life and works of the artist Ted Harrison and wrote biographies about him. Working from home hasn't always easy - but every single member of 4P has done us proud.
We are very much looking forward to welcoming everyone back just before the Easter holidays - getting ready for the start of the Summer term!
Autumn Term 2020:
What a great start to this academic year we have had! The children really seem to have enjoyed being back in the classroom environment and we have all settled into our new school routine with enthusiasm, curiosity and more than a sprinkle of humour! I am extremely proud of each and every member of Team 4P!
We have been looking at persuasive writing in literacy - the children have produced some interesting and informative leaflets, persuading the reader to visit "Perfect Paris". There is a wonderful, cheery display which the children have produced themselves based on the book: "The Magnificent Thing". Our budding artists have also learnt how to draw the Eiffel Tower in art.
In maths we have been practising place value - moving on to addition and subtraction. We have concentrated on the 4 x tables in our Time for Tables lessons.
Possibly the highlight of this term has been our performance poetry - "Gran can you rap?" which the children performed in class. Sporting shades and caps and holding blow up microphones, they were brilliant!
I am really looking forward to seeing what the next half term has to offer...
Spring Term 2020:
A new decade and a new topic...
The children in 4P returned to school after the break to find a pilot and cabin crew to greet them. At Long Buckby International Airport there was much excitement - where was the flight destined for?
After being given a luggage tag, passport and boarding pass the children went through security and passport control before boarding a flight. We watched the plane take off and land - in New York!
During the rest of their journey through the USA the children baked all American chocolate chip cookies and made presentation envelopes, drew the famous cartoon character Mickey Mouse and listened to the fascinating story of Pocahontas, whilst making dreamcatchers.
Where will our journey through the land of "Stars and Stripes" take us next?
Autumn Term 2019:
We have come back to school this academic year eager to learn about our new topic: after settling in to our class and admiring our art work, we went on an archaeological dig. We found jewels and artefacts; tasted strange fruits (dates and pomegranates!) and used clues to find out what we are going to be studying. Hieroglyphs in the playground spelt out: ANCIENT EGYPT.
Come and see our amazing Egyptian artwork: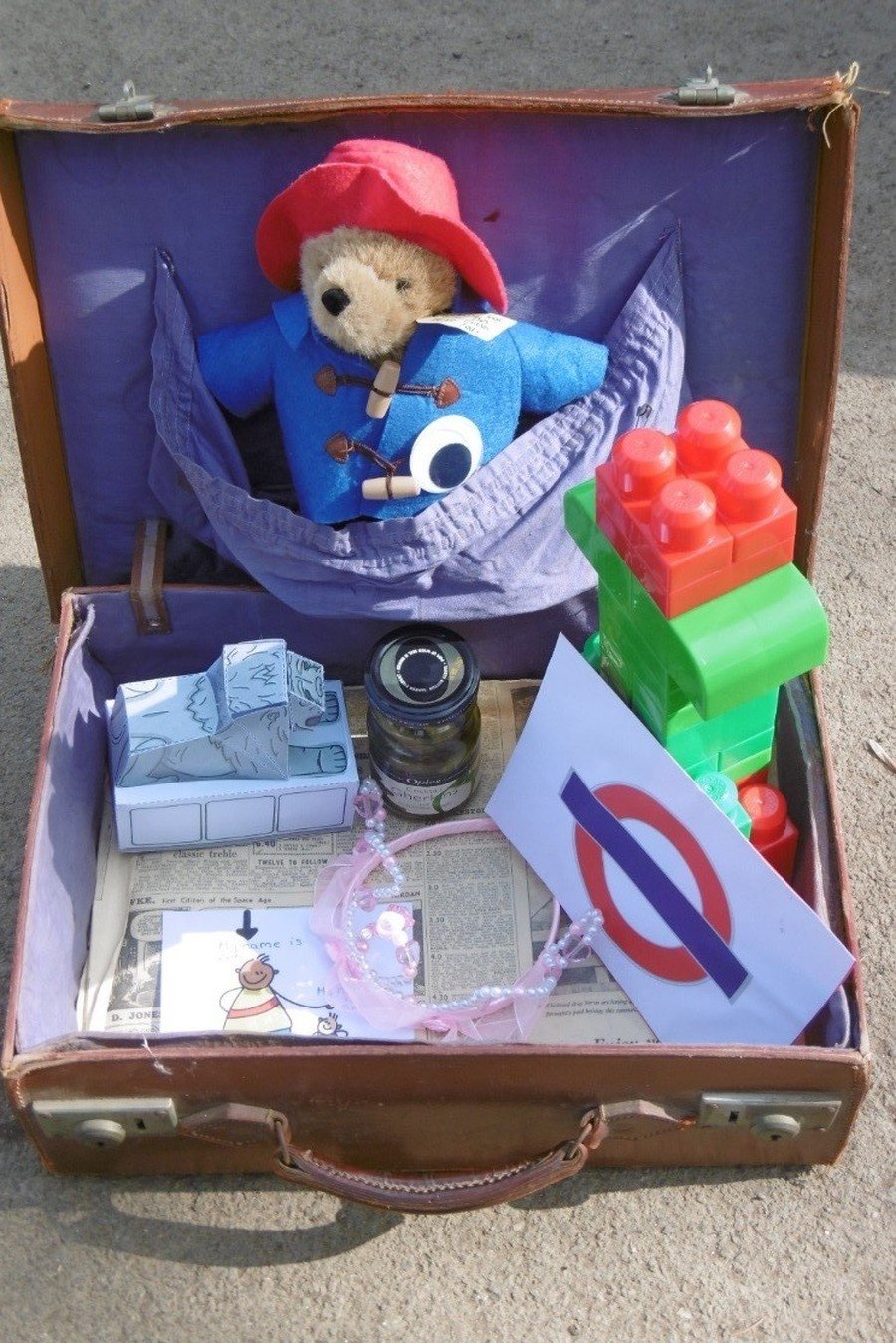 Summer Term 2019:
This term we came into school to find a mystery suitcase full of clues. It included a jar of pickles (gherkins), Paddington bear, a googly eye (one), a crown, a Lego tower, a sign and a picture of two children (both called Ben). Where would our next adventure take us?
LONDON here we come!
Spring Term 2019:
In the Spring term, Year 4 have been exploring space. We have gone "Out of this World" in literacy - writing our own space adventure stories. The children have also studied a different form of poetry - called Cinquains.
Here is our class Cinquain:
Space
Mysterious, tranquil
Rocketing, zooming, floating
Seven planets not stepped on
Universe
Stars Sun
Bright, shiny Boiling, enormous
Shimmering, glistening, glinting Roasting, blazing, scorching
Very small lights Life creator
Stellar Heat ball
by Sophia by Dillon
The children also enjoyed preparing cupcakes, rocky road and moon rock cakes (rice crispie cakes) for their community tea. We welcomed lots of parents, grandparents and governors, who enjoyed a cup of tea and some sweet treats. It was a very busy afternoon - thank you to everyone who joined us.