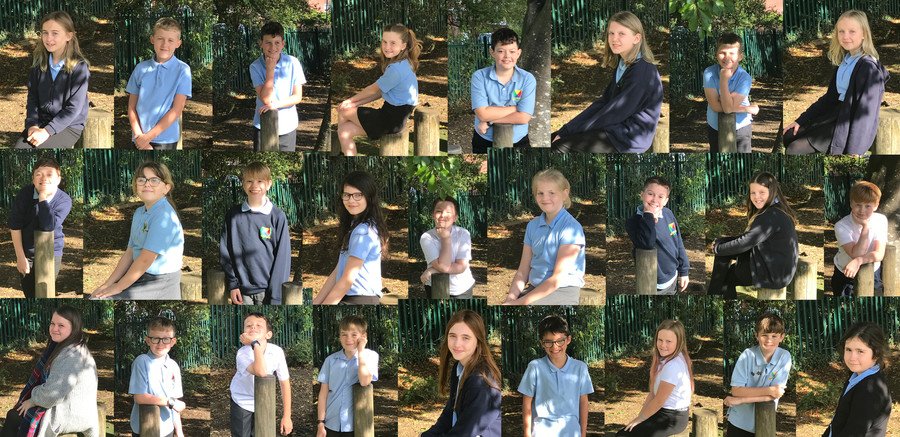 Wow! What a start to our new topic...
'Jungle Fever'
As we arrived at school after a well-earned break, we were told to wait on the playground in our classes next to a massive H marked in chalk on the playground. Once all of us arrived we could hear something unusual coming from the classroom and then Ant and Dec arrived to greet us (really Mrs Newbery and Miss Healy in disguise.) As they led us into school, we realised the strange noise was in fact the theme tune to 'I'm a celebrity get me out of here.' The plot thickened this was not going to be a normal start to the new term.
The outside of our classroom had been transformed into the rainforest with Croc Creek and Snake Rock over the doors. Jungle vines cover the entrance to the classrooms, a chimpanzee sat next to a tropical tree. Even sloths were hiding in the trees and a tiger was certainly enjoying the view. Mrs Warren had been very busy indeed.
We settled down in our seats and watched a video based on 'I'm a celebrity get me out of here' put together by Mrs Healy. It even featured real celebrities with good luck messages for us and explained that our day would consist of us completing our own bush tucker trails and dingo dollar challenges.
"My favourite trial was Disaster Chef. In that we had to eat four different foods, Monkey Mucus, Dingo Dung, Wallaby Earwax and Hatching Snake Eggs (they weren't as bad as they sound). My favourite was Wallaby Earwax because it was actually mango chutney." – Sophia
"If we weren't doing challenges, then we were making leaf crowns and coloured garlands. All in all, I think this was the best Stunning Start ever!" – George
"My personal favourite trial was Watery Waste; you had to get a cup of water and make your way along the trim trail, but there were holes in the cup to slow you down." – Chloe
"Later on in the day, we were playing games such as Eye Pong, Mystery Boxes and many more. There were also Dingo Dollar challenges. This is where you were given a challenge and you completed the quest for a reward (money)." – Izzy
"At the end of the day, we were presented with certificates to say we got out of the jungle. I was sure glad to get mine!" – Rory
"During the day, we did a variety of challenges and trials to earn stars, the stars would be tallied up and with those stars we would get ourselves a class treat. My favourite being the Eye Pong, a game where you had plastic eyeballs covered in slime to throw into cups for stars (which was very hard)." – Annie
In Literacy we have been busy writing dairy entries as Fred and Con; characters from the book 'The Explorer' by Katherine Rundell. Our next challenge is adventure stories; watch this space..
From his seat in the tiny aeroplane, Fred watches as the mysteries of the Amazon jungle pass by below him. He has always dreamed of becoming an explorer, of making history and of reading his name amongst the lists of great discoveries. If only he could land and look about him.

As the plane crashes into the canopy, Fred is suddenly left without a choice. He and the three other children may be alive, but the jungle is a vast, untamed place. With no hope of rescue, the chance of getting home feels impossibly small.

Except, it seems, someone has been there before them.
Science - Classifying trees
Our scientific question was: Which types of trees exist in our school grounds?
We were given images of leaves so we could identify the types of trees that we may find. So, off we went, coats at the ready just in case we were caught out in the rain...
Once we had gathered all our data we drew bar charts and pictograms to show our results.
Our journey began when we merged our brains together to show off our poetry skills to create a marvellous tiger poem. We hope you enjoy reading our work.
- 6N
Over the past few Literacy lessons we have been writing poems about various aspects of the jungle. - Rory
We blew Mrs Newbery away with our Poetry master pieces and spectacular art work. - Dylan & Samuel
Wow! What a week, we should have been in the Isle of Wight but this year the I.O.W came to us.
Monday afternoon was team building on the field. Can you make out what objects we made using only our bodies? Tuesday, good old fashioned rounders. Wednesday it was party time beach style. Traditionally we go fossil hunting when we are away but this year the dinosaurs have come to us with Jurassic Park and popcorn to finish off our amazing week.