Welcome to 5E
We love to read!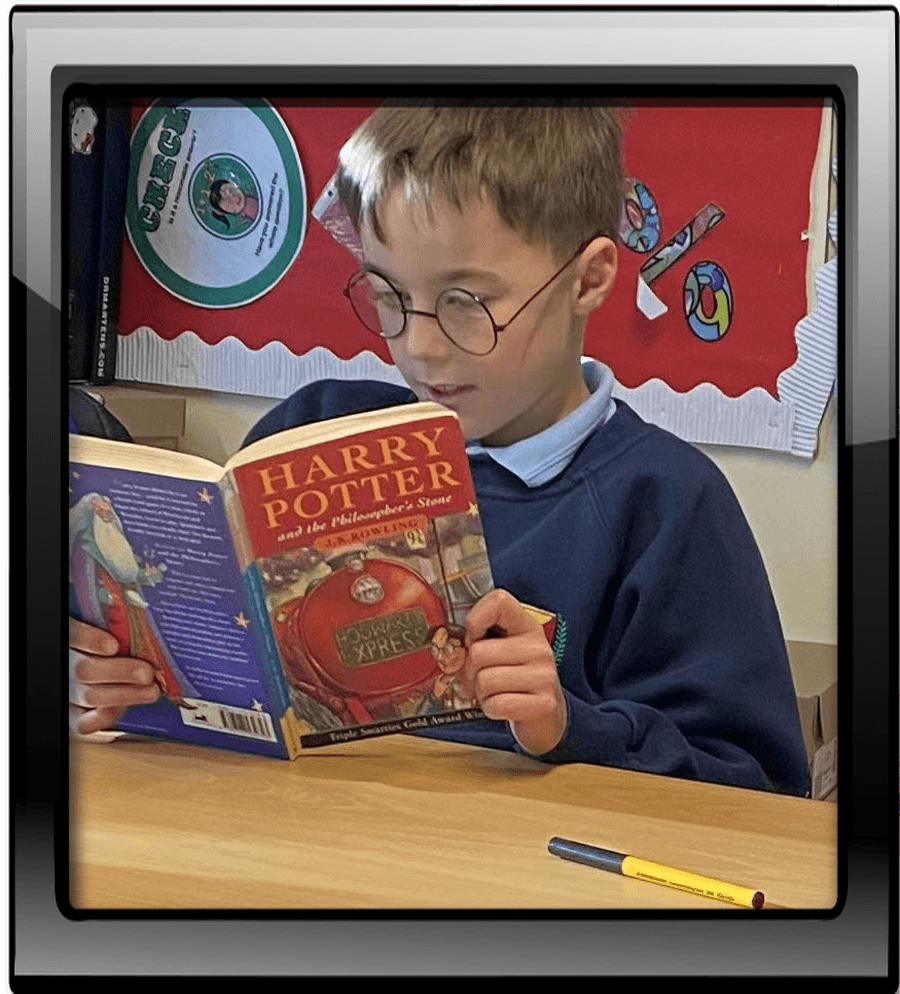 "The racoons in my book are mischievous and funny!"
"It's a really good book because Stanley thought his friend was dead but it turned out he was alive so it's really exciting!"
"I like a book with lots of action"
"Batman jumps into action in this book"
"It's so exciting and adventurous"
"The fox is on a mission is this book"
"Lupo is trying to clear his name - it's a bit tense!"
"This book is full of drama and betrayal"
"It's about trying to reach your goal and not giving up"
"This book makes me laugh"
"They are trying to overcome the power of the Viper Ship"
~Class 5E~
~The Strange Worlds
Travel Agency~
After exploring new worlds in the suitcases
of the Strange World Travel Agency, class
5E have invented their own adventures and
written diary entries about them.
Out of this world!
In science we have been finding out all about space. The children used various sized balls to explain why we have day and night.
What do we want to know about space?
5E have worked together to produce a wreath to remember and thank all those who have given their lives to help.
Times Table Champion
Well done to Jemima for completing the Championship Level this week. One hundred mixed questions in three minutes - a fantastic achievement!
RE
We have been busy making our own Islamic Calendar with Miss Lunn.
Arriving at school after the Easter Holidays 5E were greeted by TV celebrities Ant and Dec (aka Mr Curtis and Mrs Eltherington) who introduced them to our new topic - Jungle Fever!
There was great excitement as we took on the I'm A Celebrity Get Me Out of Here theme! The children were faced with a number of challenges, which they had to complete to collect stars for their camp. The activities included taking part in the Bush Tucker Trials and included tasting delights such as Parrot Poo, Monkey Bogeys and Fish Eyes! We had mixed reactions to our jungle menu!
5E were asked to face their fears by diving into boxes filled with unknown, slimy and mysterious contents, in order to retrieve their reward stars- this required bravery and courage!
We developed our creative and sewing skills making jungle garlands out of crepe paper and leaf crowns to make us feel like kings and queens of the jungle.
The fun continued after break where we all enjoyed the sunshine and took part in our very own Cyclone on the school field. We had to work together as part of a team to win more precious stars!
We had a wonderful day launching our new topic and feel very excited to learn more about The Amazon.
What the children had to say:
Yesterday was the best experience ever!! - Ava
I loved doing all the trials especially the obstacle course - Ellie
I loved going outside and doing the challenges especially the water challenges - Samuel
The food was quite bad but it was a fun experience - Corey